A balanced diet should provide our complete nutritional needs but nutritionists argue that modern life often leaves us depleted. Intensive agriculture, fast-growth crops and food processing means our food is significantly lower in minerals and vitamins than it used to be. Also the fast pace of today's lifestyles leave many people gulping down prepared meals or energy drinks – not a recipe for nutritional balance. Drinks like black tea and coffee can reduce mineral absorption while fizzy drinks and sugar contain almost no vitamins. Chronic stress also depletes vitamin supply. "Cortisol, the hormone released with stress, uses up B-vitamins and vitamin C and in the long term can burn you out while draining your body of vitamins," says Amelia Freer, a nutritionist at Freer Nutrition in West London.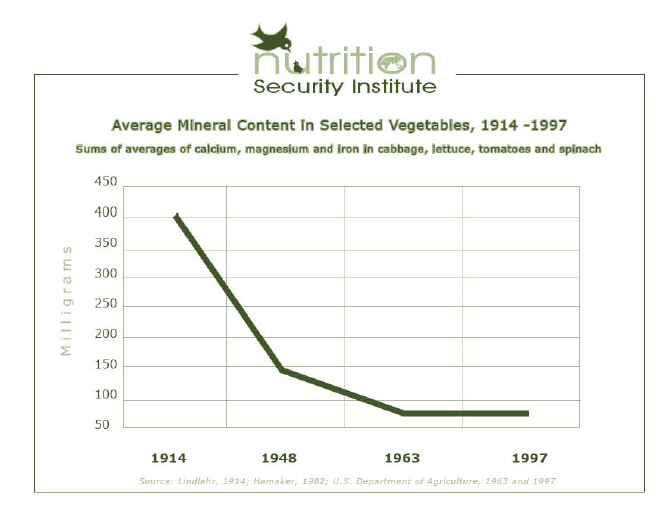 "The alarming fact is that foods—fruits, vegetables and grains—now being raised on millions of acres of land that no longer contains enough of certain needed nutrients, are starving us—no matter how much we eat of them" (US Senate Document 264, 1936). Although this was written over 75 years ago, this holds more true today than it did then! Studies reveal that the nutritional values in food have declined significantly over the past 70 years. The declines in the nutritional values in food have been attributed to mineral depletion of the soil, loss of soil microorganisms along with changes in plant varieties. Recent studies that compared the mineral content of soils today with soils 100 years ago found that agricultural soils in the United States have been depleted of eight-five percent of their minerals (Rio Earth Summit 1992).
It's not just fruits, vegetables and grains, however, as the meat we eat gets its nutrition from this same nutrient deficient land.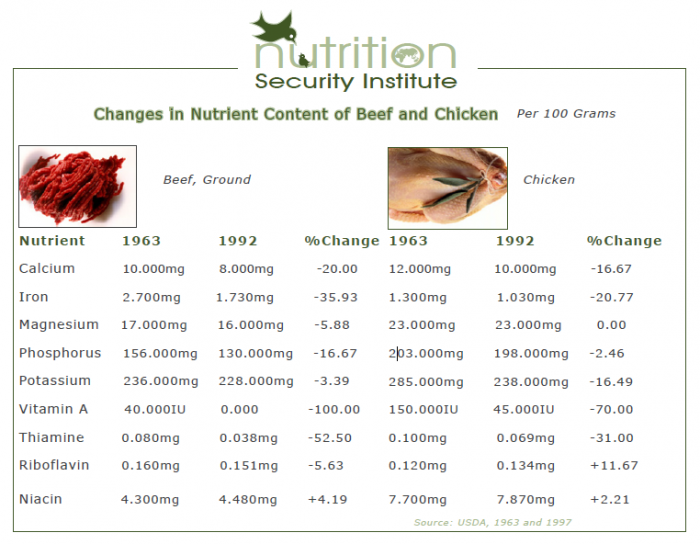 According to the US Department of Agriculture (USDA), Americans typically lack a sufficient amount of the minerals calcium, magnesium, potassium and the vitamins A, C, D and E needed to maintain good health.
What Is a Healthy Diet?
The American Heart Association defines a healthy diet for an adult that consumes 2,000 calories per day:
Fruits and vegetables: at least 4 1/2 cups a day
Fish (preferably oily): At least two 3 1/2-ounce servings a week
Fiber-rich whole grains: At least three 1-ounce-equivalent servings a day
Sodium: Less than 1,500 mg a day
Sugar-sweetened beverages: No more than 450 calories (36 ounces) a week
Nuts, legumes, and seeds: At least 4 servings per week
Processed meats: No more than 2 servings a week
Saturated fat: Less than 7% of total energy intake
Taking Vitamin Supplements?
If there are less nutrients available in our food, then the obvious thought for most of us is "take a multivitamin." This might not be the correct answer, however.  An Iowa Women's Health Study of 38,000 women who used multivitamins  found that there was a 2.4 per cent increased risk of death. Over 90 percent of vitamins labeled "natural" are actually synthetic. Synthetic vitamins may produce harmful side-effects. The synthetic version of vitamin A, retinol palmitate, for example, is significantly more toxic than the natural form.
The best way to get the nutrition you need is a varied diet that includes fresh fruit and vegetables, whole grains, meat, fish and eggs. If you have geographic tongue, you should consider taking supplements but you need to make sure they are non-synthetic and food grade. Superfood supplements from nutrient-rich natural sources provide a range of vitamins and minerals in their natural form that are easy for the body absorb. Freer recommends supplementing your daily diet with spirulina, chlorella or bee pollen. Fish or plant oil supplements are good sources of fats while rosehip supplements are a natural source of vitamin C.
In Tim McMahon's book "Treating and Beating Geographic Tongue" he lists a variety of recommended vitamins and minerals for treating geographic tongue and other tongue problems. More Info