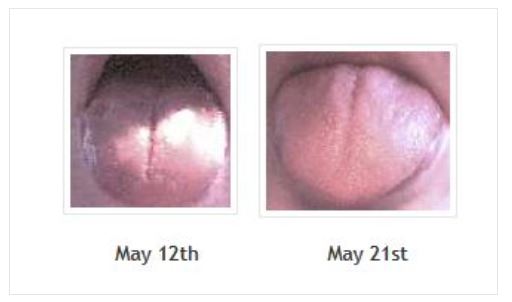 I have suffered geographical tongue for perhaps two years. My doctor said, "You picked the wrong parents, it's nothing to worry about, it's painless." Sound familiar? I tried to forget it but it became increasingly harder to do.  I thought I was losing my mind and to make matters worse I was battling an extreme bout with GT.
 I am a changed person and I owe it all to you. What a difference you've made in my life.  I want you to know that I am SO happy to have found your site.
I am sending a before and after shot of my tongue. I wish I had taken a shot a day or two before I took this one on the 12th of May. It doesn't look too terribly bad but it was.
In eight days I am totally changed!! By the fourth day I had reversed all my symptoms including that horrible depression my doctor said was

menopause. It wasn't menopause at all!
Thanks again Tim. Words cannot express my gratitude. One by one you are enriching lives that desperately need your help!
Best Wishes, Charlene Ashley St. Petersburg, Florida
Read More…